Well, I was initially stumped as to how I could possibly top the truly bonkers, paranoid hysteria of the "Beware The Liars!" title of Peter A Bell's latest blogpost, which is accompanied by what (if I may say so) is a rather fetching photo of my good self. Luckily
John Wyndham's classic sci-fi novel The Chrysalids
popped into my head and saved the day.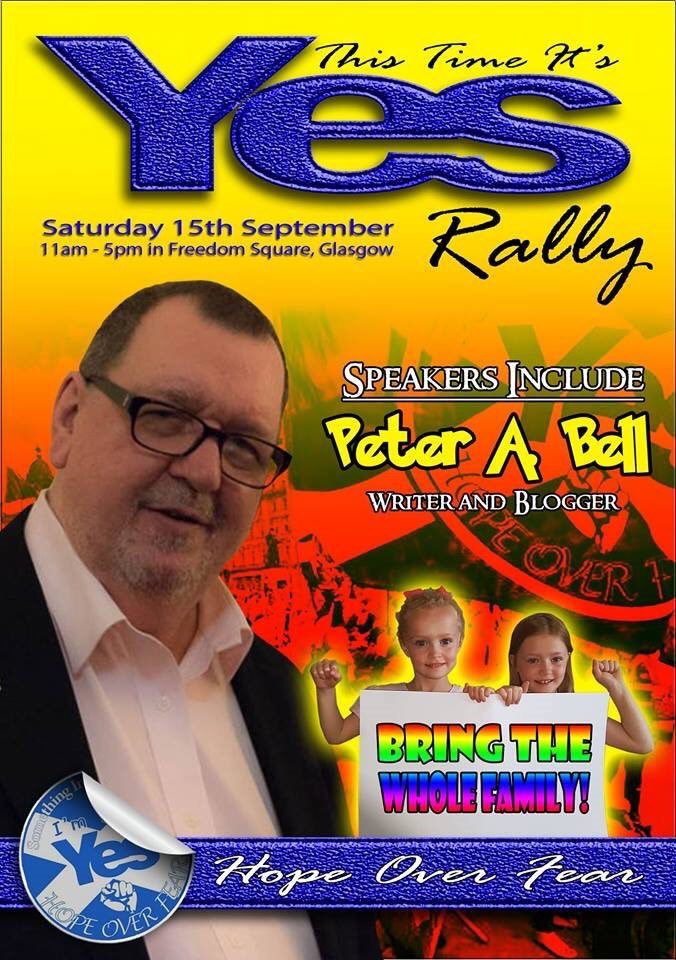 (I honestly haven't mocked that poster up, by the way, it's genuine.)
Peter's reply on the UDI point is really rather comical, because having spent several paragraphs angrily insisting that he is viscerally opposed to UDI, he then totally contradicts himself by baldly stating that "there is no route to independence which does not involve breaking the rules devised by the British state" and that "nothing happens unless and until the Scottish Government and Scottish Parliament does something that it does not have the legal power to do" and that Scotland can become independent without the "consent" of the "British elite" and that it can do so by "breaching the terms of the union". He goes on to helpfully explain that the reason he dubs this proposed extra-legal action "Dissolve The Union" rather than something more negative is because it is an exercise in "framing/reframing", ie. turning a negative concept on its head by reframing it as something positive.
In other words, the reason he is so angry at his plan being characterised as UDI is not because that characterisation isn't factually accurate (it is) but because it ruins the attempt at a cosmetic rebranding exercise, which rather hopelessly depended for its success on absolutely everyone adopting the same euphemistic language (in line with Peter's recent stern instruction to "STFU about UDI!").
I rest my case, m'lud. I've rarely seen such an impressive example of a man arguing against himself and winning so decisively.
I'll comment briefly on some of Peter's misrepresentations about my own position, and at this point I would just note the irony of him branding me a "liar" on the basis that I wouldn't accept that he is the sole authority on what his words mean. If he actually followed his own stricture, there's no way he would be continuing to peddle the wild allegation that I have blocked him from posting comments on this blog, in spite of me having told him multiple times that I have not done so, and in spite of me having explained time and again that there is no facility on this blogging platform for blocking individuals. (His attempted get-out clause on the latter point is a link to an article which he implies shows a method by which individuals can be blocked from commenting on Blogspot, but in fact shows no such thing.)
His stricture also ought to preclude him from claiming that I've stated that "Scotland was extinguished" by the union of 1707, because as he knows I've stated nothing of the sort. What I did point out is that the pre-1707 Scottish Parliament ceased to exist as a result of the union, and that the present-day Scottish Parliament is not a continuation of it, but is instead a body that derives its limited legal authority from an Act of the UK Parliament. That is simply a fact. Peter clearly doesn't like that fact, and I don't like it much either, but facts are important just the same.
Peter also bizarrely claims that I have accused adherents of "Dissolve the Union" of being opposed to a referendum. I have not done so, and he will search in vain for any suggestion to the contrary. Indeed, in one sense whether a referendum is held or not is completely irrelevant to the issue of UDI. Regardless of whether or not a popular mandate is established for an independence declaration, it's still UDI if that declaration is unilateral. For example, it's widely known that the government of Quebec was contemplating UDI if there had been a Yes vote in the 1995 independence referendum, because they didn't have any confidence that the Canadian government would respect the result.