Last night I got into one of my occasional spats on Twitter, and this time it involved someone who a lot of you will be familiar with - Jill Stephenson, an Edinburgh University academic who absolutely bloody
loathes
Yes voters. In fact, I once saw her denouncing the entire male gender on the basis that we were collectively "to blame" for the independence referendum happening in the first place. Anyway, I innocently asked her how she manages to teach people who she hates, and after avoiding the question for quite a while, she eventually came out with these gems -
"How do you know whether I teach yes voters? I'm not aware of having done so."
"On the whole, I don't meet yes voters"
Hmmm. Given that 45% of the electorate voted Yes, and that (whisper it gently) some of those people are highly likely to be current or former students at Edinburgh University, it does seem somewhat improbable that Jill has managed to avoid us completely. But you never know, I suppose - perhaps she carries around an amulet which wards us off?
While I was having the exchange, a number of her chums piled in on me, and one of them suggested that the following image sums me up quite well -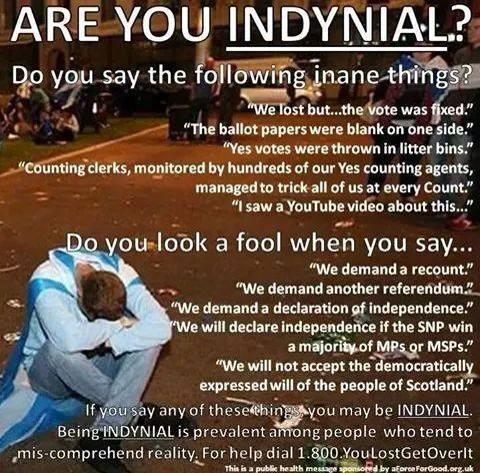 Which, of course, is spectacularly misjudged, because I've only ever made one of those statements, and I've specifically repudiated every single one of the other nine. But the odd one out is interesting, because it actually has no place on the list. "We demand another referendum" has got nothing to do with conspiracy theories, or refusing to respect the democratic process - quite the contrary. It's about saying that the winners of a vote can't just abolish democracy now that they've got the result they want. Would the person who compiled the above image defend David Cameron if he said : "I won in 2010, so that's it - you're never getting another vote. You're stuck with me as Prime Minister for the rest of your lives."
Unfortunately, we've seen this kind of thing from people on both sides of the debate. In the immediate aftermath of the referendum, a number of Yes supporters were extremely impatient with anyone who even dared to mention the possibility of another referendum - for example, Lallands Peat Worrier bluntly said "stop it". That was well-meaning, because he honestly felt that shutting down talk of another referendum would be helpful for the independence cause, but in my view it was totally misguided. It simply played into the hands of anti-democrats such as the person who compiled the above image, who were all too keen to establish the Orwellian narrative that respecting democracy somehow entails the ruling out of future democratic votes.
Derek Bateman has returned to this theme over the last couple of days. He's repeated something that he said immediately after the referendum : "I will go to my grave believing in independence and I will also go to my grave as a democrat." This presumably implies that there won't be - and shouldn't be - another independence referendum within his lifetime. That's really odd, because I believe (correct me if I'm wrong) that he's only in his mid-60s, which means that even if we end up sticking to the "once in a generation" principle, there's no reason why he won't be around to see a second referendum. In Quebec's case, of course, the second independence referendum came after fifteen years, and the second Scottish and Welsh devolution referendums came after eighteen years. Is Derek really implying that in order to be good democrats, we have to rule out a referendum for LONGER than a generation, unless there is a "material change of circumstances"? If so, that argument is utterly unsustainable.
But what I think really needs to be knocked on the head is Derek's suggestion that people who talk about a second referendum are somehow analogous to the "dark forces" who might have sought to overturn a Yes vote using legal challenges. That's totally wrong. Only the out-and-out conspiracy theorists are trying to overturn a No vote - the rest of us who are looking forward to another referendum at some point in the future have accepted the result. The correct comparison for us would be with people in a post-independence Scotland who might seek to use the electoral process to gain a mandate for Scotland rejoining the United Kingdom. Would anyone seriously suggest that such people can't be considered democrats?
Derek has also reiterated that he doesn't think the flawed nature of the referendum campaign should in any way detract from our moral requirement to not just accept the result, but to celebrate it as an expression of democracy. I must say I think that's pushing it a bit. Yes, we have to accept the result, because this is the real world and you can't just immediately re-run a vote on the grounds that, for example, public service broadcasters actively participated in a "shock and awe" campaign directed by the British state. But accepting the result doesn't mean that you have to wax lyrical about the majesty of democracy when you've just come out of a campaign that may have been free, but most certainly wasn't
fair
.